September 7, 2022
9/7/22
Select works will be on view when renovated museum reopens in 2023
WASHINGTON—The National Museum of Women in the Arts (NMWA), the world's first major museum solely dedicated to championing women through the arts, has announced a major legacy gift of more than 60 works from the personal collection of the museum's late founders, Wallace Holladay (1920–2012) and Wilhelmina Cole Holladay (1922–2021).
The gift includes paintings, prints and sculpture dating from the early 17th through the late 20th centuries. Among the treasures are works by Magdalena Abakanowicz, Louise Bourgeois, Elizabeth Catlett, Sue Coe, Sonia Delaunay, Leonor Fini, Eva Gonzalès, Eva Hesse, Claude Raguet Hirst, Gwen John, Käthe Kollwitz, Paula Modersohn-Becker, Jane Peterson, Faith Ringgold and others.
"When Mrs. Holladay began collecting art with her husband in the 1970s, she made a rare and bold choice to focus on art by women," said NMWA Director Susan Fisher Sterling. "Her historic direction led to opening NMWA to the public in 1987. Now, 35 years later, these works have come full circle to reside with the museum she founded, dedicated to the cause she deeply supported."
The Holladays gave more than 400 paintings, sculptures, prints and drawings to the museum when it opened and continuously donated art to the museum over their lifetimes. Along with their founding vision for the museum, the art they collected became the bedrock of the institution.
The museum is currently undergoing a major renovation, and plans are underway to incorporate selected works from this bequest into the updated and expanded galleries. NMWA's building will reopen in fall 2023, revealing upgraded exhibition spaces, re-envisioned public programming areas and improved amenities and accessibility for visitors. Closed to the public in August 2021, NMWA will announce further details about its fall 2023 reopening early next year.
Highlights from the bequest include: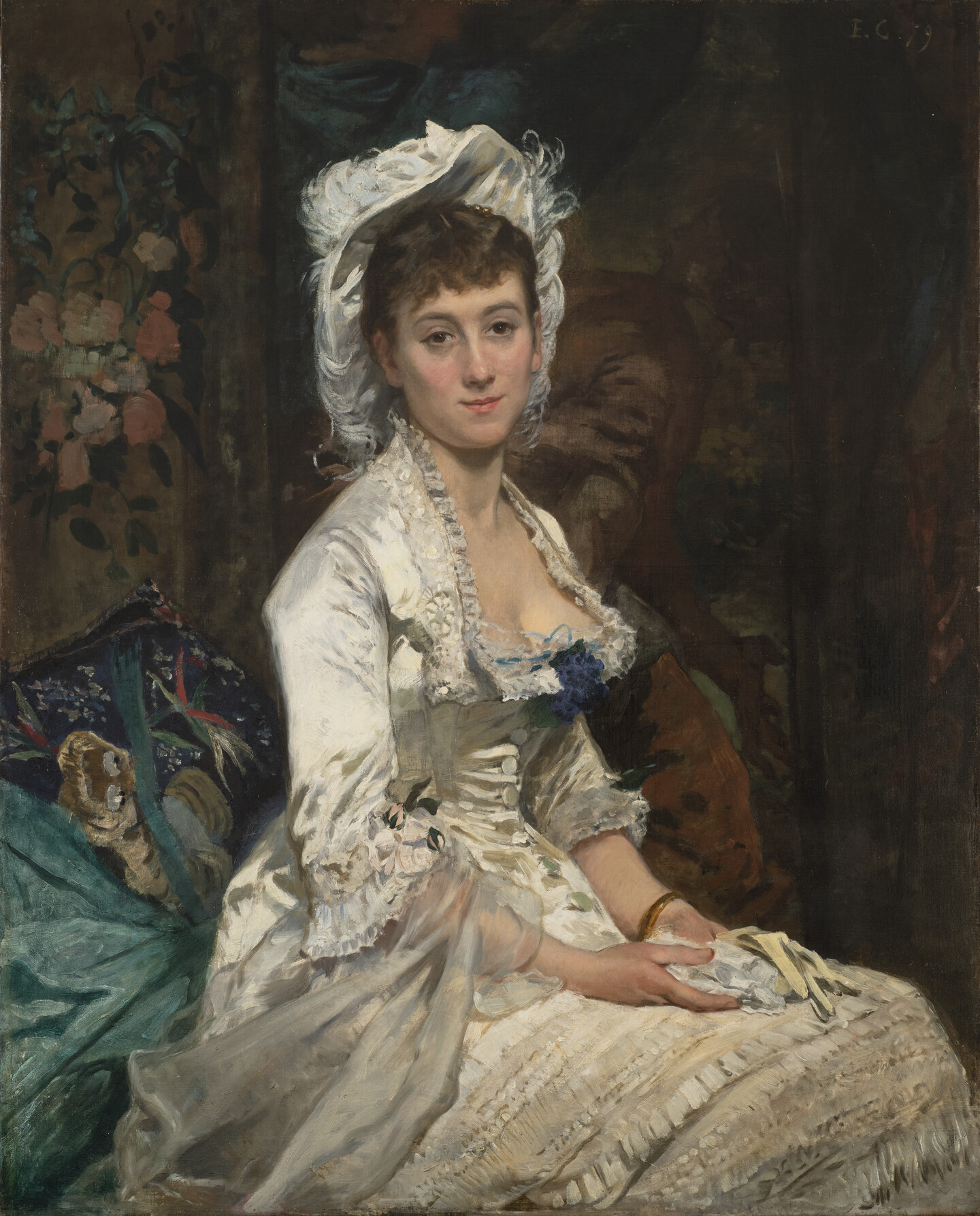 Eva Gonzalès
Portrait of a Woman in White, 1879
Eva Gonzalès (1849–1883) was the only formal student of noted Impressionist artist Édouard Manet. Despite her early death at 34, she produced a significant body of work with a focus on portraiture and domestic scenes. Gonzalès's Portrait of a Woman in White is the first painting by the artist to enter NMWA's collection, and immediately becomes one of the museum's best examples of 19th-century French painting. The work features a masterful rendering of the satin sheen of the subject's dress and the delicate frills of lace on her bodice, cuffs and skirt, all in tones of white.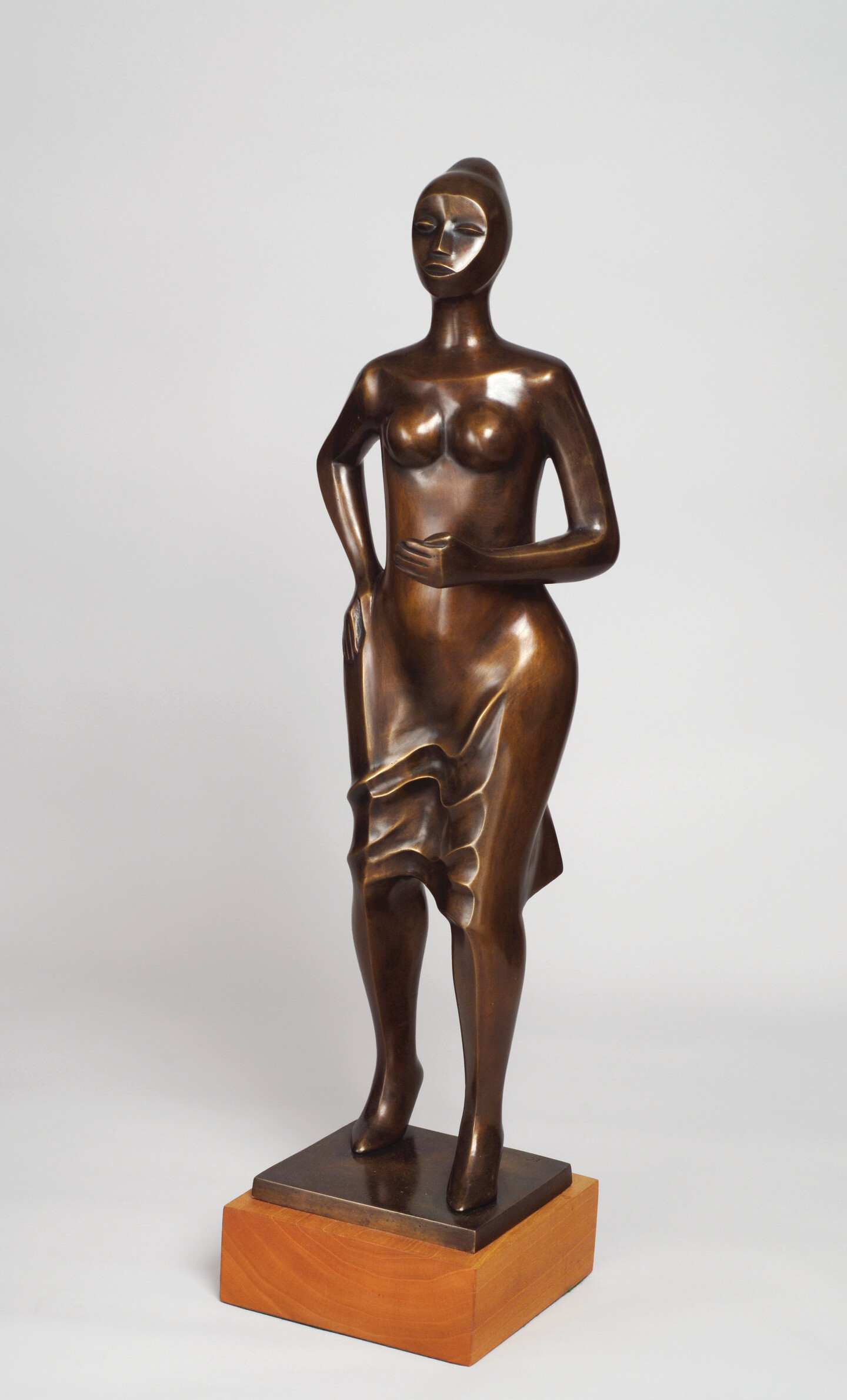 Elizabeth Catlett
Stepping Out, 2000
When refused admission to Carnegie Institute of Technology because of her race, Elizabeth Catlett (1915–2012) enrolled at Howard University, where her teachers included artist Loïs Mailou Jones and philosopher Alain Locke. NMWA has multiple vibrant print works by Catlett, but Stepping Out is the first sculpture by the artist in the collection. Made of bronze, this is an example of Catlett's more geometric abstract approach to forms from later in her career. Catlett produced realistic and highly stylized two- and three-dimensional figures, with subjects ranging from tender maternal images to bold symbols of the Black Power movement.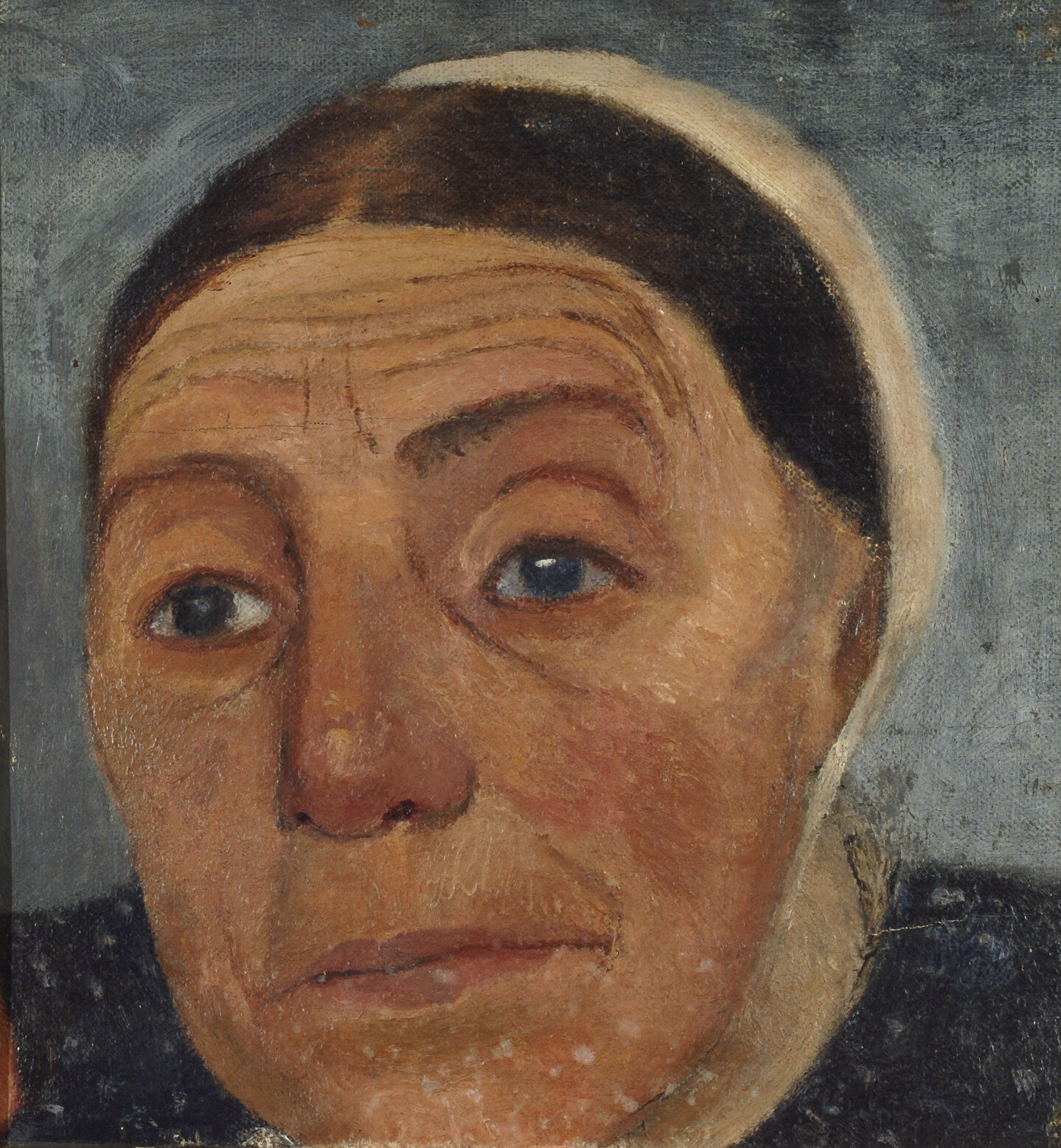 Paula Modersohn-Becker
Head of an Old Peasant, ca. 1903
Paula Modersohn-Becker (1876–1907) is known for her stark images like Head of an Old Peasant as well as her female nudes. She avoided conventional beauty standards and captured her sitters in thick, impasto paint in a subdued and earthy palette. Modersohn-Becker's life was cut short at 32 when she died from complications of childbirth. In 1927, a museum dedicated to her life and art opened in Bremen, Germany. It is believed to be the first museum to be solely dedicated to a woman artist.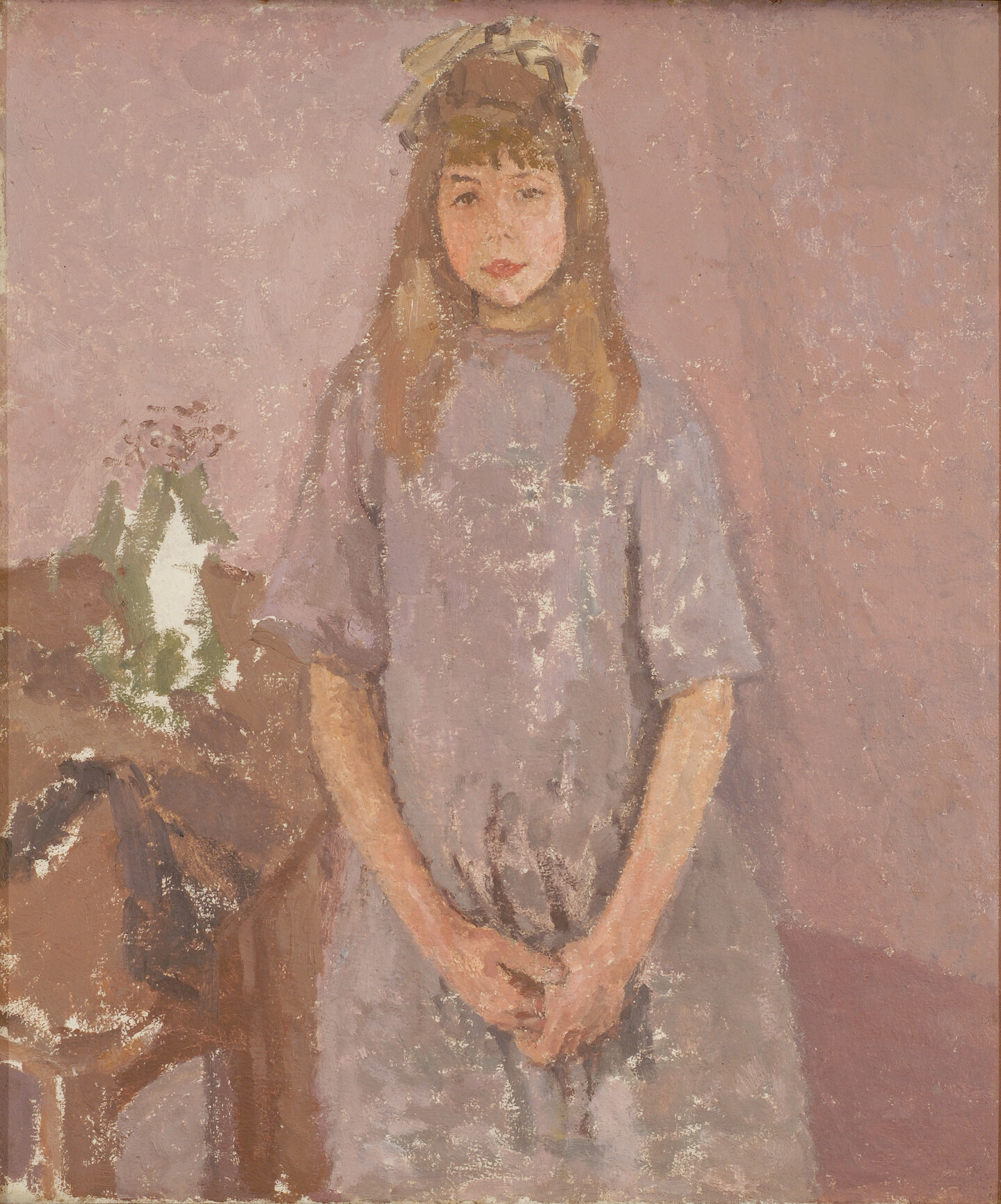 Gwen John
La Petite Modèle (The Little Model), ca. 1915–20
Overshadowed during her lifetime by her brother, artist Augustus John, as well as her lover Auguste Rodin, the work of Welsh artist Gwen John (1876–1939) was neglected until the late 20th century. She is becoming known as a significant contributor to the development of female portraiture and the British post-Impressionist style, receiving recognition for her paintings and works on paper that capture the interior quiet of her mostly solitary sitters. John studied painting at the Slade School of Fine Art in London and, later, trained with James McNeill Whistler in Paris at his Académie Carmen. La Petite Modèle (The Little Model) is characteristic of John's style, and representative of several works by the artist included in this bequest.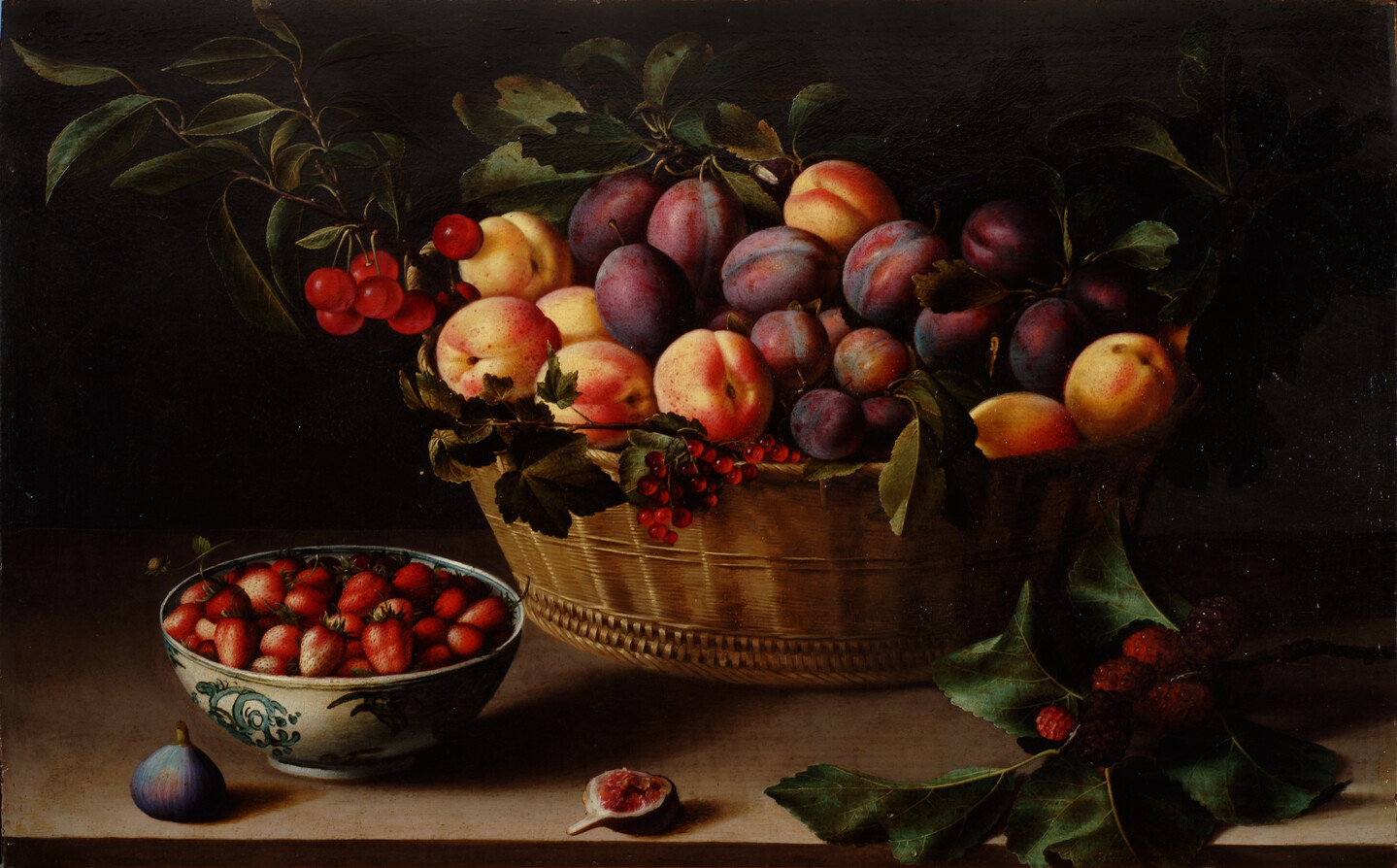 Louise Moillon
Still Life with Basket of Plums, Peaches, Cherries and Redcurrants, Together with Fraise-de-Bois in a Porcelain Bowl, Figs and Mulberries on a Wooden Ledge, 1630
Considered one of the best still-life painters of her time, Louise Moillon (1610–1696) grew up in the Parisian neighborhood of Saint-Germain-des-Prés, an enclave of refugees from the southern Netherlands. Among these expatriates were artists who brought with them their Flemish tradition of tabletop still-life painting. Moillon adopted this sober style, which typically featured arrangements of fruits and flowers.
Select images and a full list of works in the bequest are available upon request.
About the National Museum of Women in the Arts
The National Museum of Women in the Arts (NMWA) is the first museum in the world solely dedicated to championing women through the arts. With its collections, exhibitions, programs and online content, the museum inspires dynamic exchanges about art and ideas. NMWA advocates for better representation of women artists and serves as a vital center for thought leadership, community engagement and social change. NMWA addresses the gender imbalance in the presentation of art by bringing to light important women artists of the past while promoting great women artists working today. The collections highlight painting, sculpture, photography and video by artists including Louise Bourgeois, Mary Cassatt, Judy Chicago, Frida Kahlo, Shirin Neshat, Faith Ringgold, Pipilotti Rist, Amy Sherald and Élisabeth Louise Vigée-LeBrun.
The museum building is closed for a major renovation, with plans to reopen in fall 2023. Visit nmwa.org/renovation for more information. During the building closure, NMWA continues its mission-based work and engages supporters and friends through a dynamic slate of online programs and events, off-site and virtual exhibitions, and digital content. For information, call 202-783-5000, visit nmwa.org, Broad Strokes blog, Facebook, Twitter or Instagram.